Wallace & Gromit's chat-o-matic is an app for iphones, ipod touches, and ipads. Use the Chat-O-Matic to transform your mouth into Wallace's instantly recognisable beaming smile! With pre-recorded well-know Wallace phrases, entertain your friends over the Christmas period and have them in fits of laughter.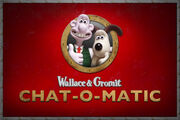 It can also be used as a standard soundboard (Wallace quotes on demand at the touch of a button) and includes handy links to all your favourite Wallace & Gromit goodies.
The app is a universal build so for one price you can have a pocket Wallace mouth when out an about and then maximise the mirth with the amazing iPad version too.
External links
http://itunes.apple.com/us/app/wallace-and-gromit-chat-o/id481070915?mt=8
Gallery
Ad blocker interference detected!
Wikia is a free-to-use site that makes money from advertising. We have a modified experience for viewers using ad blockers

Wikia is not accessible if you've made further modifications. Remove the custom ad blocker rule(s) and the page will load as expected.