The Tellyscope is a short film in the Cracking Contraptions series. The film features the invention of the tellyscope, a new television remote control system.
Plot
To try activating his TV automatically without getting up and sharing with Gromit a new contraption he invented. Wallace activates his Tellyscope which shoots a tennis ball into the wall turning gears and cogs activating the TV. Wallace selects a channel and expects it to be the channel on cheese, "The Cheese Files" to come on. Instead a different channel called "When penguins turn" comes on. Having run out of tennis balls he tries using the TV remote which Gromit hands over to, but it's size and shape destroys the system, however it does put it on the right channel, before sending the TV to shoot across the room and into Wallace, pinning him to the wall.
Trivia
Music from A Grand Day Out is used.
Shaun makes a cameo when the TV changes channel.
This movie along with Shopper 13 can hint he is lazy.
Video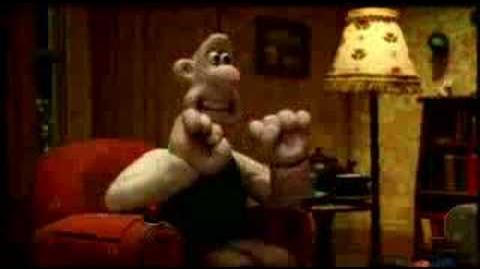 Ad blocker interference detected!
Wikia is a free-to-use site that makes money from advertising. We have a modified experience for viewers using ad blockers

Wikia is not accessible if you've made further modifications. Remove the custom ad blocker rule(s) and the page will load as expected.