The Simpsons
Talk

0
465pages on
this wiki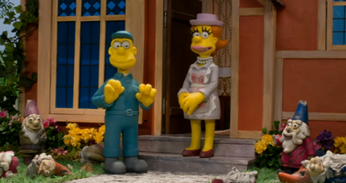 The Simpsons
is an American animated television sitcom created by Matt Groening for the Fox Broadcasting Company. The series is a satirical parody of a middle class American lifestyle epitomized by its eponymous family, which consists of Homer, Marge, Bart, Lisa, and Maggie Simpson. The show is set in the fictional city of Springfield, and lampoons American culture, society and television, and many aspects of the human condition.
Popular culture
Journey to the center of Homer
Milhouse tells Bart that he should watch the Wallace & Gromit shorts A Matter of Loaf and Death and The Wrong Trousers.
One of the other nomonies for the oscars was Willis & Crumble in Better Gnomes and Gardens, a parody of Wallace & Gromit.They were cleaning Miss Pennyfarthing gnome and since she was proud sh asked Willis to have some tea and some marmit sandwiches.Crumble was about to have some lunch until a bird used the machine Willis and Crumble to turn Crumble to a gnome. At the end Willis was calling for Crumble and then he and Miss Pennyfarthing were suprised that Crumble turned to a gnome.