The Simpsons is an American animated television sitcom created by Matt Groening for the Fox Broadcasting Company. The series is a satirical parody of a middle class American lifestyle epitomized by its eponymous family, which consists of Homer, Marge, Bart, Lisa, and Maggie Simpson. The show is set in the fictional city of Springfield, and lampoons American culture, society and television, and many aspects of the human condition.
Popular culture
Journey to the center of Homer
Milhouse tells Bart that he should watch the Wallace & Gromit shorts A Matter of Loaf and Death and The Wrong Trousers.
One of the other nominees for the oscars was Willis & Crumble in Better Gnomes and Gardens, a parody of Wallace & Gromit.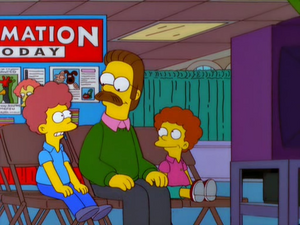 While at an animation festival, Wallace, Gromit & Feathers can be seen in the background.
Ad blocker interference detected!
Wikia is a free-to-use site that makes money from advertising. We have a modified experience for viewers using ad blockers

Wikia is not accessible if you've made further modifications. Remove the custom ad blocker rule(s) and the page will load as expected.