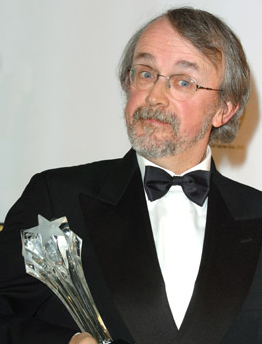 Peter Lord (born in 1953) is a British film producer, director and co-founder of the Academy award-winning Aardman Animations studio.
Along with David Sproxton, Lord founded Aardman as a low-budget backyard studio, producing shorts and trailers for publicity. Later on, in the early eighties Nick Park joined the group. Lord, Park and Sproxton developed and finalized their style of detailed and lovingly designed clay animation characters from stop motion techniques. In 1991 Lord directed and produced Adam, a 6 minute clay animation that won an Academy Award.
Nick Park created the Wallace and Gromit-shorts in cooperation with Lord and Sproxton. Lord served as an executive producer on The Wrong Trousers and A Close Shave. Lord and Parks worked together as producers, editors and directors on Chicken Run in 2000 and Peter Lord also produced The Curse of the Were-Rabbit.
Lord was made a Commander of the British Empire (CBE) on June 17, 2006.
Ad blocker interference detected!
Wikia is a free-to-use site that makes money from advertising. We have a modified experience for viewers using ad blockers

Wikia is not accessible if you've made further modifications. Remove the custom ad blocker rule(s) and the page will load as expected.