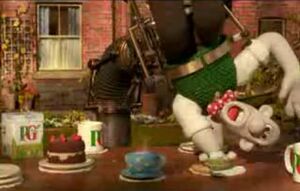 PG Tips is a brand of tea in the United Kingdom; its manufacturers Unilever UK claims that Britons drink 35 million cups of PG Tips a day.
In 2005 PG Tips launched a major marketing tie-in and ad campaign for Wallace and Gromit's first film The Curse of the Were-Rabbit. Wallace and Gromit appeared in an advertisement along with Lady Tottington. In the commercial Wallace tries to impress Lady Tottington with his latest invention, an elaborate device that helps one test the tempature of their tea.
Ad blocker interference detected!
Wikia is a free-to-use site that makes money from advertising. We have a modified experience for viewers using ad blockers

Wikia is not accessible if you've made further modifications. Remove the custom ad blocker rule(s) and the page will load as expected.