For the Shaun the Sheep episode, see Fleeced.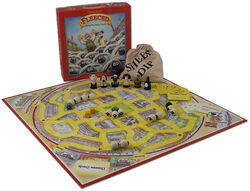 Wallace & Gromit's Fleeced!: Sheep Rustling Game is a board game released in 2007. Players work their way around the streets seeking out fugitive sheep. Rustling them from their hideouts or from other players and herd them in long lines safely back home. The game can be played by 2-6 players.
Contents
Ad blocker interference detected!
Wikia is a free-to-use site that makes money from advertising. We have a modified experience for viewers using ad blockers

Wikia is not accessible if you've made further modifications. Remove the custom ad blocker rule(s) and the page will load as expected.