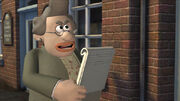 Edwina "Winnie" Gabberley is a character that appears in Wallace & Gromit's Grand Adventures.
She is more commonly known as Mrs. Gabberley. She is also the owner of a local newsagent, and she lives with her husband, Mr. Gabberley. She is friendly and gentle but she will yell at anyone insulting her. For example, "Go suck a lemon you moaning Minnie".
Gallery
Ad blocker interference detected!
Wikia is a free-to-use site that makes money from advertising. We have a modified experience for viewers using ad blockers

Wikia is not accessible if you've made further modifications. Remove the custom ad blocker rule(s) and the page will load as expected.