BBC Christmas interstitials, related to the series of Wallace & Gromit, have appeared on both BBC One and BBC Two.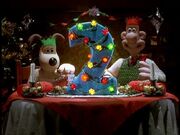 Original interstitials (BBC Two, 1995)
To celebrate the television premiere of A Close Shave on Christmas Eve 1995, BBC Two's Christmas 1995 season featured short interstitals and channel identifiers starring Wallace and Gromit. A reel of these short animated bumpers have been included as a bonus feature on several DVD releases of the original three Wallace and Gromit films.
The main Christmas ident involves Wallace and Gromit sitting through about 35 seconds of Two flashing it's lights, then settling down to eat a meal. The regular theme tune of BBC Two back then played during the ident.
Videos
Recent interstitials (BBC One, 2008)
Recently, another series of short interstitials was aired to coincide with the premiere of A Matter of Loaf and Death on BBC One. These featured Wallace and Gromit skiing and snowboarding on the circular one ident made of snow.
Videos
Ad blocker interference detected!
Wikia is a free-to-use site that makes money from advertising. We have a modified experience for viewers using ad blockers

Wikia is not accessible if you've made further modifications. Remove the custom ad blocker rule(s) and the page will load as expected.