Angry Dad: The Movie" is the fourteenth episode of The Simpsons' twenty-second season, in which Nick Park starred as a guest and Lisa wished him good luck in the greammy awards. Wallace and Gromit starred, but were called different names. Wallace was called Willis and Gromit was Crumble. Wilis and Crombol are gnome cleaners and gnome fixers.
Plot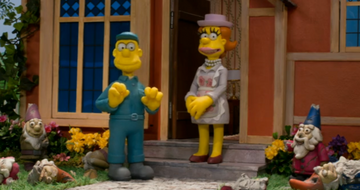 One of the other nomonies for the oscars was Willis & Crumble in Better Gnomes and Gardens, a parody of Wallace & Gromit. They were cleaning Miss Pennyfarthing's gnomes when she asked Willis to have some tea and some marmite sandwiches. Crumbol was about to have some lunch until a bird used the machine Willis and Crumble to turn Crumble to a gnome. At the end Willis was calling for Crumble when he and Miss Pennyfarthing saw that Crumbol. turned to a gnome.
Ad blocker interference detected!
Wikia is a free-to-use site that makes money from advertising. We have a modified experience for viewers using ad blockers

Wikia is not accessible if you've made further modifications. Remove the custom ad blocker rule(s) and the page will load as expected.